Welcome to Year 1
2019-2020
Spring term
'Adventures all Around'
The children have come back with their brains switched on after having a good break over Christmas. They are enjoying our topic 'Adventure all Around' were we have been looking at different continents and oceans as well as famous explorers such as Sir Francis Drake and Amelia Earhart. The children used the Disney Pixar film 'UP' to give them inspiration towards writing their own adventure stories. They are really beginning to think about how they can make their writing sound more exciting through using more exciting vocabulary.
In Science the children have been investigating the five senses. They have enjoyed conducting taste tests, guessing the scent of candles and using magnifying glasses and telescopes to play around with their vision. We also spent an afternoon thinking about what it might be like for a person who is visually impaired through wearing blindfold to complete everyday tasks that we would usually find quite easy.
Autumn term
'Childhood memories'
We have been very busy on the lead up to Christmas. Our school Christmas play was called 'The Match Girls Christmas' and we had such fun practicing for our performance. Take a look at some of us in our costumes for the play...
On Friday the 13th we celebrated Christmas Jumper day to raise money for charity and we enjoyed tucking into our Christmas lunch.
To celebrate how hard we had worked we held our very own Christmas party. We dressed up, played games and made party food. Whilst we were playing a game of sleeping lions, Father Christmas paid us a visit. He talked to each one of us and gave us a Christmas present.
On the first day of opening our Christmas calendar we noticed some strange things happening in our classroom. Someone kept leaving us messages on the board and messing up the classroom. Eventually we found out who the culprit was. We were very excited to meet Ernie the Elf! Ernie helped us with our math lessons and gave us a surprise each morning when we walked into the classroom.
Unfortunately, one morning Ernie went missing and a horrible message was left on the board telling us that he had been kidnapped by the Grinch. To help us find out who the Grinch was we read the story by Dr. Seuss. We really wanted Ernie back so we set ourselves to task making wanted posters to put up around the school. Everyone in school wanted to help us find our Elf! After two days without Ernie, Year 1 decided that the Grinch needed to learn how to celebrate Christmas properly so they wrote him a set of instructions. The Grinch must have been happy because Ernie turn up in the classroom the next day.
We have also been working on our sewing skills to help us design and make a Christmas stocking to take home and fill with gifts. We spent time researching existing designs and mag-pieing ideas that we could use for our own. We made mock ups to make sure that our stocking would be the correct size and shape. When we were happy with our design we cut into fabric and began to stitch our stocking together.
'
In our Deign and Technology lessons we used the Halloween theme to design and carve a pumpkin to take home. Some of us really enjoyed getting our hand messy. We used different tool to help us scoop, carve and mark make our pumpkin faces. To make sure that we didn't waist the left over pumpkin we scattered the seeds on our picnic tables so that the squirrels could take them to their stores for the winter.
In the continuous provision area we have investigated capacity and created our own magical potions like real witches and wizards. Afterwards we wrote a set of instructions on how to make our potions and described what effect it would have on someone if they were to drink it.
Little Composers
In music, we have explored the inter-dimensions of music such as pitch, tempo and duration. Our task was to work with a partner to compose, practice and perform a simple tune to reflect what we had learnt about duration. We used lines and dots to symbolize the length of a note. You can hear us perform our tunes in the video clips below.
Our History lessons have allowed us to explore toys through time. We spent a whole lesson just playing with toys from different time periods. By the end of the lesson we could all say which toys were old and which were new. We could even order them along a time line based on when we thought they had been invented. Here are some pictures of us exploring some of the toys…
We have also learnt about the traditional games that children used to play before the invention of electricity. Once we knew how to play the games ourselves, we invited the reception children to come and play our games. We showed how we could be good role models to the Reception children by giving them clear instructions. We played games such as spinning tops, hopscotch, hoop and stick, skittles, ring toss and boules.
The children have been exploring the value of thankfulness during their RE topic based on Harvest. They have created art work, tried fruit and vegetables from around the world and made a fruit salad which they shared with their friends.
The children learnt about the story behind Sukkot and how the Jewish celebrate Passover. We read the story of Moses and thought about how the Jewish people must have felt whilst fleeing the Egyptians. The children then worked together to build a Sukkah Hut ensuring that their hut had a table inside where the Jewish Passover meal could take place.
To link with the Harvest theme the children have read the story 'The Enormous Turnip' and have worked very hard towards writing their own versions of the story by thinking about different characters and settings.
2018-2019
Summer term topic...
'Through the Keyhole '
Victorian homes
During our History lessons this term we have been exploring how houses today are different to those in the past. We have learnt so much about the advancement of technology over time, this year and so we were able to transfer this knowledge to help us with this topic. After much researching and gathering of idea's we were able to design a Victorian dolls house.
We began by researching different wallpaper designs to reflect the Victorian era. We then sketched a design for our very own wallpaper on foam boards and created a print. Once dry we then measured and stuck the wallpaper into our shoe boxes.
We then began to use tools such as the saws and hot glue guns to create the furniture for our dolls house. We made sure that our furniture was the correct size for our rooms by measuring accurately.
National Cricket week
In June we celebrated National Cricket week. The children practiced their striking and catching skills and towards the end of the week they were ready for a game of cricket.
Sports day
The children showed off their competitive side during sports day. They enjoyed cheering in support for their friends as they completed different races.
Ramadan
To signify the end of Ramadan, Fatima brought in a sweet treat to give the children and teachers as gifts in her class. She explained that it is a tradition to give friends and family a small gift to show that they are kind. The children were very interested to hear about how Fatima's family celebrated Ramadan.
Art week- Designers- Sergio Pininfarina
This years art week has given Year 1 a focus on the famous automobile designer Sergio Pinifarina. First the children were given the task of finding out who and what this designer was famous for. They were very excited to discover that he was most renowned for designing Ferrari. Once they knew this they were off researching his designs and choosing their favorite. They then created sketches of his cars using the pencil and shading techniques that we have been practicing. All the children's art work can be seen on display in the infant corridor Art Gallery.
Mysterious Creature found by Year 1!
The beginning of term began with some strange occurrences as we walked into school and realised that a strange creature had come to visit us. The creature had left footsteps and trails of slime throughout the school. We investigated the break in and realised that a Bog Baby had come to visit us. The children had read all about the story of the 'The Bog Baby' and were really excited to write newspaper reports to inform their parents and families about what had happened in their school.
Castles and their defenses
In history we have been discovering what life would have been like for those who lived and worked in a castle. We learnt about how Kings and Queens defended their castle in the past. The children designed a new castle for Prince Harry, Princess Megan and their son Prince Archie. Some children drew and labelled their designs whilst others decided to make it out of Lego and discuss their defensive strategies.
In science the children have been continuing their learning and investigation of plants. They have explored the school garden to classify types of plants and flowers and to find samples for names and functions of parts of a plant. The children are able to understand why insects are so important in the life cycle of plants.
Expressive art work
During outdoor classroom day we enjoyed many different activities and challenges. We discussed the work of Banksy and how he uses his art work to shock and send important messages to the public. As we have become passionate about the destruction of our planet we decided to create artwork of our own to send a message to the children in our school. Abigail and Matthew wanted to show people how they could be helping to look after the environment. Some children decided that they wanted to work together to create a huge picture. Rylan drew the ocean. Louie and Sophia drew lots of plastic waste floating on the surface of the ocean and Charlie decided he was going to draw a sunshine looking down on the ocean with a sad face.
Planting and nurturing a Sunflower...
Mrs Ellison gave each of us a sunflower seed to look after for the rest of the year. We have all been given the responsibility of making sure that it has what it needs in order to grow healthily. Here are some pictures of us planting our seed. We will update you with how are sunflowers grow in a few weeks.
Week two of looking after our sunflower seeds and some of them have really grown. Some of them have grown to 11cm tall...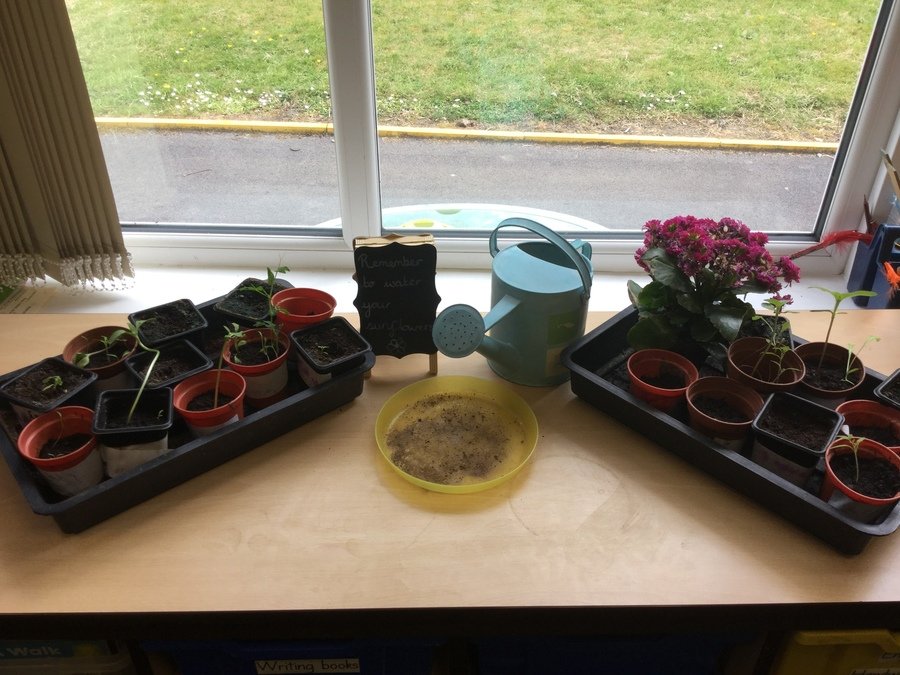 After we came back from the Easter holiday some of our sunflowers had grown too big for their little pots. We had to replant them in larger pots and give them a new home outside...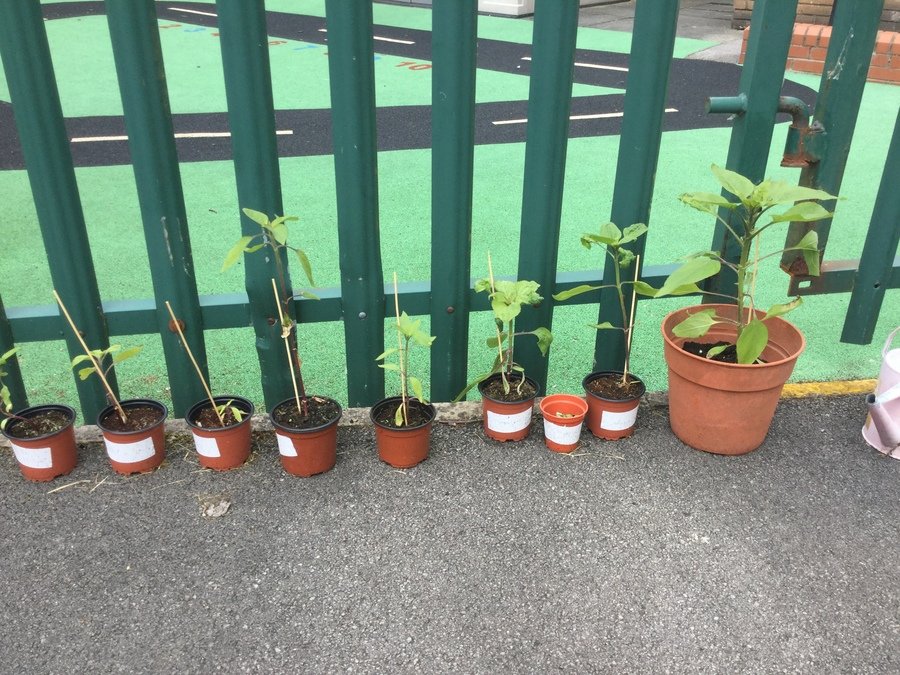 Just before we finished for the Summer holidays, some of our Sunflowers blossomed. Some of them are taller than we are!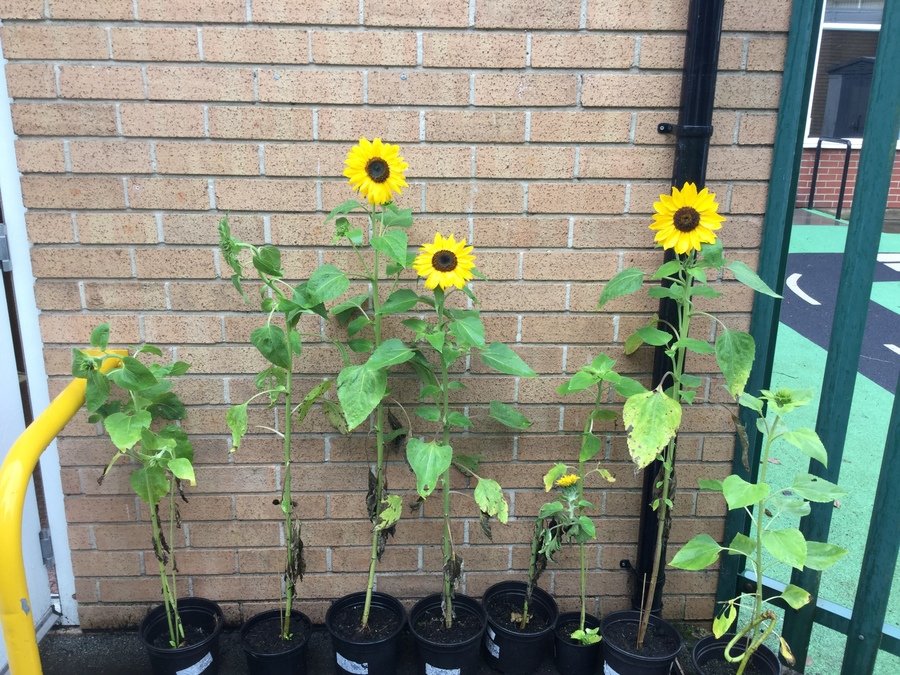 Spring term topic...
'Adventures all Around'
Our school trip to 'The woodland Hide Out' was brilliant! We learnt new skill such as throwing axes to chop down a beanstalk, den building and archery. Some of us just enjoyed relaxing under the shade of a tree and making different arts and crafts.
World book Day!
On World Book Day we focused on the author Dr Seuss. We read stories like 'The Cat in the Hat', 'Green Eggs and Ham', 'The Lorax' and 'Scrambled Eggs Super'.
We all dressed up as our favourite Dr Seuss character for the day.
Over the half term holiday the children were set the task of creating a project based on a fairy tale. A huge thank you to parents for helping children to create such imaginative and creative projects. We have really enjoyed presenting them to the rest of the class.
This term the children have enjoyed their topic 'Adventures all Around'. They have learnt so much about continents and oceans through studying world maps and using geographical enquiry to find out about places they had never been to. The children learnt about how technology has helped us to explore the world by first learning about Sir Francis Drake and how he circumnavigated the globe on his ship the Golden Hind. We then moved onto more recent explorers such as Amelia Earhart and how she was the first woman to fly around the world in an aeroplane. Soon we will be looking at how technology has allowed us to explore more than just sea and land as we look closer at space travel and the achievements of some famous astronauts.
In RE we have been reflecting on the Christian story of creation. It helped us to really appreciate the world that God made for us and we understand how important it is to protect and look after our world. We used the Ipads to take close up pictures of nature so that we could understand how complex and detailed Gods creations are. Here are a few of our pictures...
Autumn
Merry Christmas and a Happy New Year!
We have worked incredibly hard over the past few weeks to practice for our Nativity performance.
Recently we have been learning about story bears such as Rupert the Bear and Winnie the Pooh. The children have wrote their own adventure stories and made their own Christmas themed Teddy Bears as part of their Design and Technology project. The children worked really hard on their sewing skills. Here are some examples of what they created:
In our RE lessons we have been thinking about how it makes them feel when they give a gift. The children participated in Secret Santa and made each other a present. It was lovely to see that the children had thought carefully about what that person liked or enjoyed.